September 5th, 2008
The past few days have been quite the ride in the weather dept. here in the U.P.- a 30 degree change in daytime temps have water temps dropping after the sweltering heat we received this past weekend!  Lots of different opportunities currently exist in the fisherman's world here in the Upper Peninsula.
Pacific Salmon (both Chinook & Pink) and Atlantic Salmon are present in good numbers on the St.Marys River system.  A strong push of Chinook and Pinks have arrived over the course of the last couple days with the cooler temps, heavy winds & rain.  Fish are scattered throughout the river system and this is the time to target chrome Chinook.  Some very healthy large Salmon are present & hopefully that is a good sign for the Pacific Salmon population of Lake Huron.  Water temps are currently in the lower 60's and this should bring even more Salmon in over the next week.  Right now is great chance to get the triple crown of the St.Marys-Atlantic, Chinook, & Pink Salmon!  Sound like fun?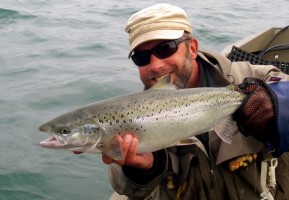 Over the holiday weekend I was able to get down to the Big Manistee River for a couple days to chase some Lake Michigan Chinook.  Some great opportunities were available for both streamer fishing as well as hardware applications for these magnum sized Salmon! I spent a few days fishing with Jamie Clous (fullersnboc.com) and Ed McCoy (hawkinsflyfishing.com)-these guys know their game and are licensed U.S. Forest Service pemit holders – if you are interested in fishing the Big Manistee, they are good!  Here are a couple pics from our outings.
Over the next few weeks there are great fly fishing opportunities for Resident Brook & Brown Trout, Chinook & Pink Salmon, as well as Atlantic Salmon here in Michigan's U.P..  What's your drug of choice?