February 10th, 2009
The post below is for Lake Superior State University, without this institution we would have no such thing as Atlantic Salmon here in Michigan's U.P. and beyond.  Many of us are blessed to be able to take part in this great fishery, below you will find some facts/interesting information pertaining to the St.Marys River Atlantic Salmon.  Thank you to Lake Superior State University and everyone associated with the Aquatic Research Lab!
In1977, Lake Superior State University (LSSU) opened the Aquatic Research Laboratory (ARL).  With only $1,000, donated materials, and space provided by Edison Sault Electric Company, the drive and vision of Dr. Gale Gleason and the students of LSSU created the ARL to raise fish and study water resources. When reliving the times, Gleason commented, "I didn't get any money.  I didn't even get to fish, but I loved it."
Over the years, the ARL has expanded in its vision and mission.  More than 1,000 people a year visit the ARL, and thousands more view the FishCam to see what fish are swimming in the St. Marys River.  Since the ARL's humble beginning over 1.5 million fish have been stocked into regional waters, leading to what is becoming a world-renowned Atlantic salmon fishery.  Over one million dollars in grants were brought into the lab for fish culture and water quality research, and hundreds of students have received hands-on training in fisheries and aquatic sciences.
But the ARL has outgrown its current facility. Fortunately, Edison Sault Electric has donated a 16,000-square-foot, three-story, historic building which allow the ARL to nearly quintuple its present size and modernize its facilities to enhance undergraduate training and education at LSSU.  "We are very excited about this building and the opportunities it will open for us," commented Roger Greil, who has managed the ARL for 18 years.
But the ARL needs your support with the renovation.  The expansion will allow the ARL to expand its fish hatchery, to add a state-of-the-art fish health laboratory, to construct a visitor center and discovery room with interactive displays, and to provide more resources for training the next generation of fisheries and aquatic stewards and researchers. Annual fishing expenditures in Michigan are over $1.6 billion, and combined with fisheries and wildlife watching, generate nearly $3 billion for Michigan's economy and support over 25,000 jobs.  Whether you are an Atlantic salmon angler or concerned about improving Michigan's economic stability, a donation to the ARL is an investment in our future.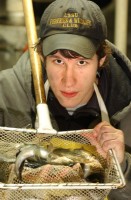 To help support the ARL, please consider a donation (make sure to specify the Aquatic Research Laboratory in the "Other" box).