December 7th, 2010
Whew, much to early in the Winter to deal with this cold blast.  To say that it has been hard to motivate to go out and brave the elements lately is a bit of an understatement, daytime highs right in the teens.  Lots of anglers are already hitting the ice fishing scene up here, i have heard there is upwards of 4 inches on some interior U.P. lakes.  Rivers are in good shape water wise, temps in the mid 30's.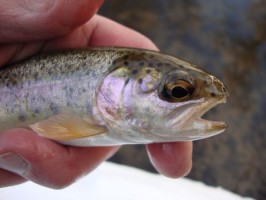 A new blog – The Laughing Whitefish was started this past week, stop by and visit from time to time.  Blog is about life in the Upper Peninsula from a fly fishing guide & outdoor enthusiasts point of view.  During the Winter months I will be posting lots of info as days on the river become more limited this time of the year.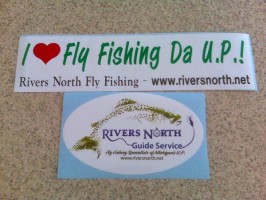 Show your U.P. pride and help support an independent Michigan small business, send (riversnorth@yahoo.com) us your mailing address and we would be more than happy to send you a couple of our new stickers!  Guaranteed to provide positive trout karma and overall luck in all your piscatorial pursuits!