July 3rd, 2011 at 10:42 pm
Summer is here finally across the Upper Peninsula of Michigan as some downright beautiful weather has blessed us over this July holiday time frame.  Resident Brook & Brown Trout fishing has remained solid with some good opps for the dry fly fisherman, Iso's, BWO's, Caddis & Damsel flies have been bringing some nice fish to the surface.  The St.Marys River has some Atlantic Salmon, Whitefish, Steelhead & Rainbow Trout present-water flows have been day to day with maintenance on hydro dams. Days off have been spent exploring new water for some exciting new fisheries-pictured is Dan with a trophy Smallmouth Bass.  Check out this months issue of Eastern Fly Fishing magazine-Author Jerry Darkes spent several days fishing the St.Marys River with us last season while writing this article.
In collaboration with Lake Superior State University Aquatic Research Lab we are participating in a Atlantic Salmon tagging project this season.  The study is being done with a couple other guides of the area to tag & release Atlantic Salmon to study mortality, migrations & other data that will aid in the future of this fine fishery.  If you choose to keep your Atlantic Salmon, please call the phone number on the tag & give the info to Roger at Lake State ARL.  Riversnorth tags are colored red, shoot me an email if you catch a tagged fish!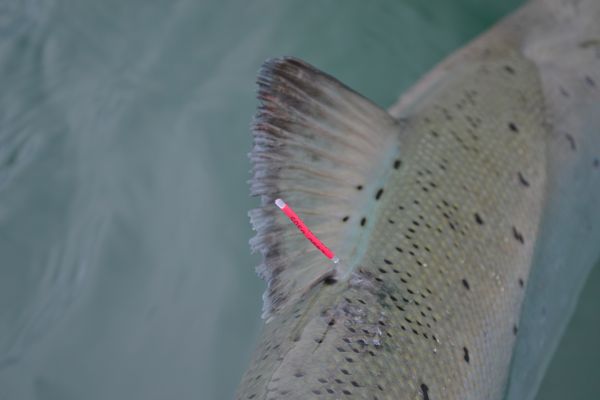 Check out the "Laughing Whitefish" Blog-
http://marquetteflyfishing.blogspot.com/2011/06/cold-summers.html