A Few Happy Customers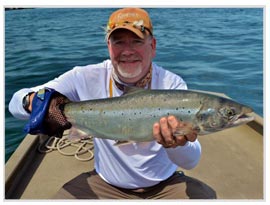 "The UP is a magnificent and diverse fishery. You can target a wide range of species using a wide range of techniques. No one knows more about where to go, when to go, and how to be successful than Capt. Brad Petzke. And, he's a bunch of fun to spend the day with! Without question, one of the best fly fishing guides in Michigan.
Sean

---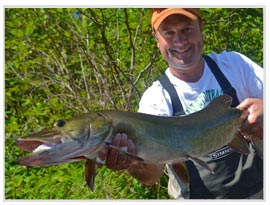 "In January of each year, I make a fishing bucket list for the year. In 2013, the top slot on that list was to land a muskie on the fly. I knew there was only one guy in Michigan that could make this happen – Brad Petzke.
Whether it be muskies or steelies, atlantics or brookies, Brad's knowledge of these fish and their habitat in the UP is unparalleled.
Tim Smith

---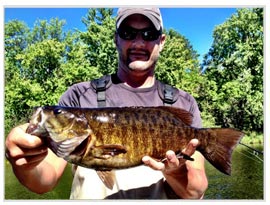 "I Have fished w Brad many times all over the UP and highly recommend his services. He offers trips for a variety of species and caters to all experience levels. Brad is knowledgable, experienced, alot of fun..... and he knows where to find the fish!
Ted F.

---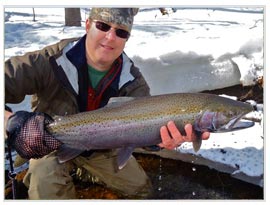 "The website says fight the fish not the crowds, that is exactly what I wanted and exactly what I got. Steelhead fishing with Rivers North is a spring time tradition for me.
Keith B.

---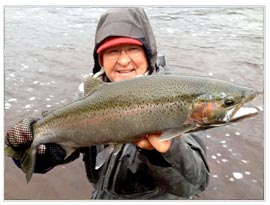 "Brad (or RNGS) unlocks the potential for a great day on the water like no one else and has the vast available territory down and dialed in for action. My time with Brad has been solo, with my daughter and friends and we keep coming back. He is truly all around good guy and guide extraordinaire for all seasons.
Mark F.

---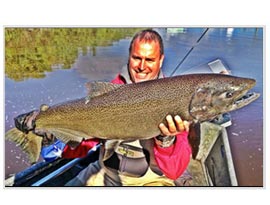 "I have been fishing with Brad since 2007 and in all the years and the multiple trips I've booked with him for many different species, I don't believe we have ever come up empty! Brad has an uncanny knack for putting anglers on fish - early and often - making the time spent with him loaded with action and a real blast!
Not only is he the consummate guide, but Brad is just a great guy people love to be around!
I highly recommend Rivers North! You won't regret it!
Jay Hillier, Marquette

---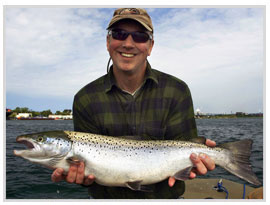 "I had the good fortune of meeting Captain Brad Petzke at a fly shop in South-eastern Michigan in the spring of 2007. He was giving a seminar on "Fly fishing for Atlantic Salmon in the St. Mary's River." Right off, Brad impressed me with his high level of enthusiasm and "go-getter" personality. Also, I was struck by his admiration and respect for the fishery. I've since fished with Brad a couple of times and have another trip planned.
To call each outing a success would be making quite an understatement. Throughout each day's almost constant action, while fishing for perhaps the king of all fish, Brad's warm and engaging personality made me feel blessed. He knows the habits of these great fish and the techniques to catch them in this fairly specialized situation. I've fished pretty much all over the U.S. and Canada and I've found Captain Brad Petzke to be one of my all time favorite guides. And while all of my fishing with Brad so far has been for Atlantics, I look forward to trout fishing with him sometime soon."
Sincerely, Paul Gray
http://ptbruleestudio.com
Visit Paul's site for remarkable artwork of sportfish taken all over the world, truly unique and one of a kind work.

---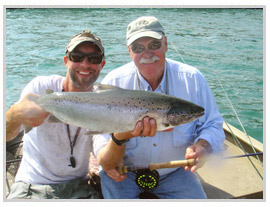 "Hi Brad, I enjoyed the fishing and listening to you sharing your experiences and knowledge of the waters and the fish."
Bob Clouser

---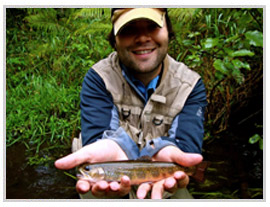 "I had the pleasure of fishing with Brad Petske for native brookies in Upper Michigan. It was a world class experience that is hard to describe unless you've had one like it. Brad truly exemplifies his craft and is simply a "professional" in every sense of the word. It took me very little time to realize that this trip would be one of the most memorable trips on the water that I've ever had, and that Brad would have himself another repeat customer."
Justin Terp

---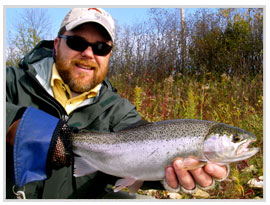 "I have had the Honor and Pleasure of fishing with Brad for the past couple of years. We have fished for both spring Browns & Chromes and the first fall Chromes to hit the river. Brad has helped my learn to read the water as well as helped to improve my techniques. Fishing with Brad is like fishing with a friend. I guarantee a day on the water with Rivers North will be a memory you will always look back on with a smile.."
Jeff Rhinock, Cinncinnati, Ohio

---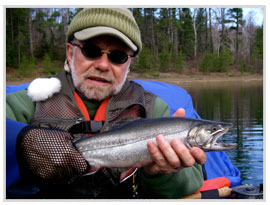 "My wife and I keep coming back to the UP rivers, creeks and deep lakes for the solitude and blue ribbon cold-water species. Brad knows where, when and how. He teaches at your level -- if you want to hone your skills, if you are a rookie -- no worry. He takes care of all that is necessary and he will put you on fish no matter when. No one knows the UP waters like Brad, and he has as much fun as I do when I set a hook whether it is a jewel of a brookie or a big-shouldered Atlantic!
Before we end a fishing trip, we are already planning the next one with him. So join in on the fun and the beauty of the UP and give Brad a call. "
Tom Gawle, Burnett Wisconsin

---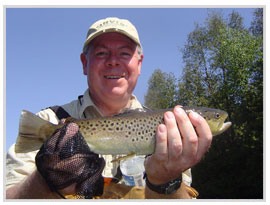 "I've fished Trout on early June days the last two years with Riversnorth and had a great time! Brad is a very knowledgeable and dedicated professional who knows his Upper Peninsula waters, will put you on fish, and handles everything from a drift boat to a fly rod to a first aid kit (don't ask!!!) very competently. And whether we were drift boat dry fly fishing, wading and slinging streamers in bigger water, float tubing for trophy brook trout or stalking trout on a smaller spring creek, Brad always seemed anxious to show me new water while taking real pleasure in my successes. As a serious fisherman I have to say I really appreciated just how hard Brad works to tirelessly provide a very full day of fishing, sometimes combining a couple of venues. Besides that, Brad is a great guy I just plain enjoy being with. Bet you will too!"
Don Minard

---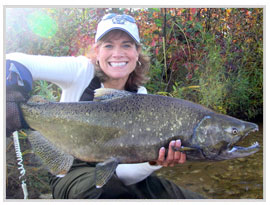 "I was very fortunate to be introduced to Brad a few years ago when I was organizing a fly fishing event for a couple business associates. None of us (all women)had any fishing experience and Brad had a few "challenges" to deal with. One of us - I won't mention who – even managed to snag a duck! But Brad is remarkably patient and has a calming effect on those around him which is conducive to learning and makes for a wonderful fishing experience. Within a few minutes he had all of us casting and mending like pros - and we caught loads of fish!
Since then, Brad has guided all my trips and we are always extremely successful in our catch. I owe him a debt of gratitude for his part in my newly blossoming love of fishing and more importantly, his role in my becoming the "master wrangler" in my office! None of the "men" can beat me - with or without a net - which is a constant source of their consternation!
Brad has a real love for what he does and a respect for the catch he seeks. His enthusiasm is infectious and I thoroughly enjoy being in his company. You will too!"
Pam Stewart

---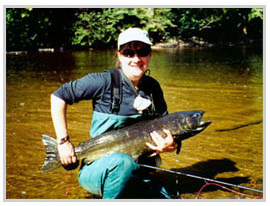 "Brad Petzke knows the UP waters better than anybody, and is an excellent fisherman and guide. When we have taught women's classes together, I have found Brad to be a wonderful and patient instructor."
Kimberly Clark
---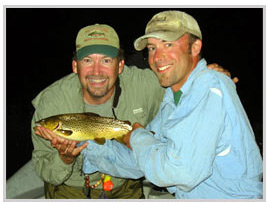 "Brad Petzke is one of the top guides in the country, and those of us who fish in the upper peninsula of Michigan are lucky to have him. Brad has all of the qualities that make a great guide: knowledge of the local rivers and lakes; dedication to provide a first-class experience for his clients; and respect for the fish he pursues. After a few minutes on the water with Brad, you feel like you're fishing with an old friend. And when Brad puts you on the fish -- which he will -- no one in your group will be more excited and enthusiastic about your catch than Brad. He is that rare person who enjoys seeing another person catch fish nearly as much as he enjoys catching them himself. And that makes him a wonderful guide.
Take a trip with Brad and you'll be glad."
Tim Schulz
---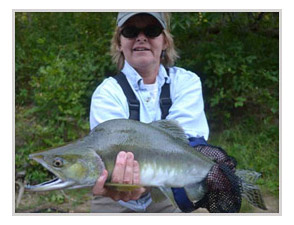 "My wife and I have done all kinds of fishing in several countries, but the last time we drove south across the Mackinac bridge we agreed that this had been the best. No more spending thousands going to the Alaskan wilderness: Brad Petzke and the UP offer some of the best fly fishing in the world."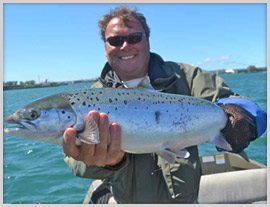 Andrew and Maggie
---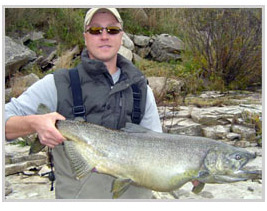 "I have been booking trips with Riversnorth Guide Service for a number of years. Their knowledge of the area has assured our success every time! When speaking of "full service", Riversnorth has it all- including the equipment needed to ensure the best of expereinces; to the sharing of knowledge that those of us who have not yet achieved 'expert" fishing status can use. I do not hesitate receommending Riversnorth to anyone who is looking for the ultimate in fishing expereinces."
Tom Cousineau
---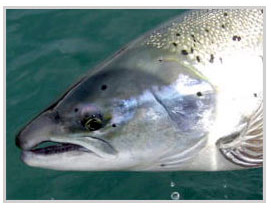 "I think Brad's great. He takes care of us and has never kept any of us. Us Atlantics have a little deal with Rivers North. We give his clients some mean head-shakes, a couple arial shows, a nice picture for the wall and in return, he lets us swim another day!"
Sal, St. Mary's River
---