Great Lakes Near Shore Fishing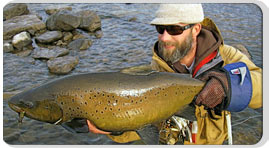 Experience Spey fishing for trophy Lake Run Brown Trout and Steelhead-this method of fly fishing is very exciting as it provides for an opportunity to catch the fish of a lifetime! Swinging large streamers provides for breathtaking strikes that will leave you speechless at times! Our staff enjoys teaching this method of fly fishing to beginners, as well as assisting long time veterans of the two handed fly rod. The Upper Peninsula of Michigan hosts great populations of Lake Run Brown Trout, a fish over 10 lb.'s is reality. Steelhead follow the Pacific Salmon upstream during their spawning migration and once in the river systems are aggressive towards the swung streamer. The feeling of a Steelhead attacking a streamer is like no other strike! These fish feed on baitfish once they enter the rivers from the Great Lakes, making for an excellent opportunity to experience streamer fishing for a truly world class trout. Argentina sized Brown Trout at a fraction of the cost and trophy class Steelhead!
Peak season= Early Oct-Late December.