U.P Fly Fishing for Steelhead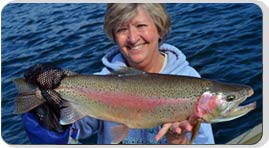 U.P Fly Fishing for Steelhead in the Upper Peninsula is quite different from anything you have ever experienced before! From the pocket-water fast moving streams of Lake Superior to the larger watersheds of Lake Michigan, our Steelhead are a very unique fish. The Lake Superior Steelhead average 3-6 lbs of pure strength. Pound for pound there is no other Great Lakes Steelhead that can compare. Even the most experienced steelheader will admit these fish are very special!U.P Fly Fishing for Spring Steelhead begins in early April, and depending upon when Spring melt off occurs, usually fish are available until mid-May. This annual Spring spawning migration is when we receive the largest amount of Steelhead in our river systems. Both the Lake Superior and Lake Michigan streams of the U.P. receive strong annual runs. During this time frame nymphing with single handed rods is the most productive.
Rainfall will dictate the Fall fishing here in the U.P. for Steelhead. Ample rainfall in October will bring a push of Steelhead in from the lake to winter over in our rivers. This fishery starts in mid-October & has opportunities for you to catch fish until our Spring run occurs.
Pound for pound there is no other Great Lakes Steelhead that can compare to Lake Superior / U.P Steelhead.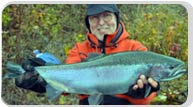 The Fall season is primarily when we target Steelhead with two-handed Spey rods and streamers. If you are looking for a new look at Steelhead fishing, this is a great experience-novices are welcome! Also during this time frame Steelhead are heavily feeding on the large amount of Salmon eggs present, nymphing with single handed rods in very effective at this time also. Steelhead fishing is the U.P can be quite challenging and technical-high water and rough terrain is the norm on the rivers of Upper Michigan. The rivers of the U.P. are quite different than our neighbors downstate-smaller & faster these rivers are primarily wading rivers. Wading is difficult at times with water conditions-please consult us for the best opportunity of you! A high rate of wild reproduction is present in many of our streams-thus making for a strong population of wild Steelhead.