Captain Brad Petzke |Rivers North Guide Service
Join Captain Brad Petzke in fishing Michigan's beautiful, remote, Upper Peninsula. Brad is the only full-time licensed & insured fly-fishing guide in the U.P. His knowledge from 20 years of guiding fly fisherman with Rivers North assures clients of first class professionalism. Brad is a U.S. Coast Guard licensed Master Captain, Michigan DNR Inland Licensed Captain, Sceintific Anglers Pro Staff member, Scott pro staff member and part of the Michigan River Guides Association (www.mrga.net).
Brad strives to see his clients enjoy the serenity of the U.P.'s secluded streams and lakes. Teaching is his favorite part of guiding; the experience of your first Trout on a fly is his reward. He spends an average of 175+ days on the waters of the Upper Peninsula. His passion in fly fishing is streamer fishing-on his days off he can be found spey casting streamers for Steelhead and Lake Run Browns, chasing resident Brook and Brown Trout or casting for Atlantic Salmon in Sault Ste. Marie! Brad's knowledge of fly fishing the U.P. is from years of being on the water both fishing and guiding. Feel assured that he knows where the fish are year round!
During your outing with Rivers North, we provide all the necessary equipment! Quality Orvis fly rods, reels, leaders, tippet, flies, and a limited supply of waders are available for all clients to use during your outing. Our boats/vehicles are maintained to the utmost standard to provide for the highest quality experience for you, the client. There are no hidden costs associated with your outing-no extra surcharge for gas for outings and all flies are included with price of the outing (clients are responsible for obtaining a valid Michigan fishing license prior to outing).
To insure a productive outing, travel time to fishing destination from Marquette may be up to an hour drive. Meals are also provided with all float trips & full day outings. All lunches/dinner are catered by Babycakes Coffee Shop of Marquette, MI- www.babycakesmuffincompany.com Please let us know if you will require any special accommodations for your outing. Please click on our availability/pricing page for more specific information about our trips!
Choose Your Adventure | Contact Rivers North | Availability & Pricing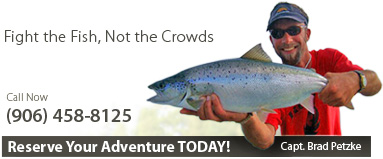 Rivers North takes great pride in being the Upper Peninsula's First & Only Full-Time fly-fishing guide service that provides a quality experience for every client because of our knowledge of the U.P. and its fisheries. Years of experience on the water has Rivers North's reputation as being the Upper Peninsula's foremost authority on fly fishing Upper Michigan.
You deserve a memorable adventure. Let's go fishing!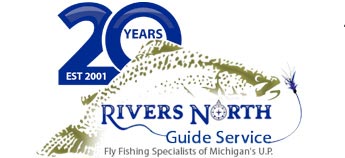 Guides who work with Rivers North
Tim Schulz | Guide
Tim Schulz grew up fishing for warm-water species with spinning rods in the southern Midwest, that all changed 30 years ago when he moved to Michigan's Upper Peninsula. Since then, he's chased Trout and Steelhead with a fly rod throughout one of the nation's last unspoiled places. He hasn't forgotten his roots, though, so if it swims in a river or lake, he'll try to catch it with a fly. Tim is a true historian of everything related to UP Trout, years of research has him the regions foremost expert. He's published one book — "Habits of Trout" — about his adventures, and he's working on a second. When he isn't fishing, he teaches electrical engineering at Michigan Technological University, or writes and sings songs in the spirit of his hero John Prine. You can follow his adventures on his blog uptrout.com.
Marshall Kemppainen | Guide
Marshall Kemppainen, a lifelong Upper Peninsula resident from the Houghton area is as passionate about fly-fishing as one can get. His love for the sport is infectious and affects anyone who shares the water with him or even talks to him for that matter. Marshall enjoys fishing year round, but fly fishing for cold-water species is his favorite and his absolute passion. He specializes in brook trout, brown trout, and steelhead. While he takes his work and fishing seriously, Marshall understands the importance of having fun and enjoying life. A day on the water will be spent exploring the most scenic waterways of the U.P. while landing spectacular trout on the fly.