Brook & Brown Trout
The Upper Peninsula of Michigan's Trout fishery is very diverse. Fly fishing options are endless here in the U.P.- choose from dry fly fishing, nymphing & streamer fishing on one of the many rivers and lakes that have world class opportunities for trophy Trout! There is so much quality Trout water in the U.P. it is bewildering for many-you could spend a lifetime here and still not fish all the streams/lakes in the U.P.! So many choices of where to fish?
Let Riversnorth be your host while visting the U.P. For years Riversnorth Guide Service has been guiding fly fisherman from all over the world here in Michigan's U.P. From beginners to experts, the U.P. has something for everyone that is interested in fly fishing for Trout! Here in the U.P., Trout season begins the last Saturday in April and runs all summer until the last day of September. Several rivers across the U.P. are designated as being open all year for Trout fishing. This provides for Trout fishing during every month of the year!
Guided fly fishing outings are available for Wild Brook Trout, Brown Trout, and Rainbow Trout. Trout fishing in the Upper Peninsula is simply relaxing! Imagine pristine rivers and Trout lakes that are virtually only fished a handful of times per season. Rarely will you encounter other anglers during our Trout outings-- one is more likely to see Whitetail Deer or the illusive Moose! The dry fly-fishing here in the U.P. is very consistent because of healthy rivers that host hatches of Blue Winged Olives, Sulphurs, Caddis, Isonychia, Brown Drakes, Cahills, and Ephron Luekons. Fly fishing Trout in the Upper Peninsula is a great experience for all skill levels of anglers from expert to novice! Ask about fly-fishing our trophy managed lakes for Brook Trout with a float tube or canoe in late spring/early Fall for trophy sized Brook Trout!
Trout Float Trips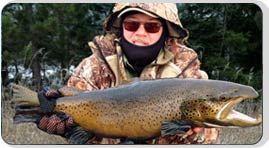 The float trip outing is a great way to get the Upper Peninsula experience. Not only do you get to cast to rising Wild Brook and Brown Trout, but you get a chance to see some of the most secluded water in the Midwest! This float trip is the most popular trip with our clients for many reasons. The main one is being secluded and a chance at a trophy Brook Trout! The main focus of our float trips is targeting rising Trout and streamer fishing. The 17 ft. Hyde driftboat used provides a very relaxing atmosphere to enjoy the surroundings. On your float trip, a shore dinner awaits you while you watch for the evening hatch! This remote outing is only available from mid may through late June. Please don't delay your reservations.
Float tubing for trophy Brook Trout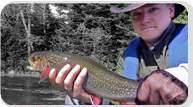 Imagine relaxing while sitting in a float tube on a remote Brook Trout Lake here in Michigan's Upper Peninsula. This fishery is where the largest Brook Trout in the Midwest are present. Fly fishing the Trout lakes of the U.P. is very similar to the Trout lakes of Canada. Every season fish over 18 inches are taken from our inland Brook Trout lakes ! All float tubes/equipment is provided! The trophy Brook Trout lakes are managed to have fish over 15 inches present! This a a ton of fun and if you are into large Brook Trout, this outing is highly recommended! Peak fishing occurs early May through Mid June and Early Sept through late Sept.
Wading Trips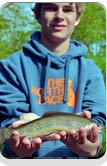 Some anglers prefer wading trips over a float trip-no problem! There are many streams here in the U.P. that are much to small or not quite suited for a driftboat & wading is the only option. Imagine wading knee deep in a remote Upper Peninsula stream being surrounded only by eagerly rising wild Brook Trout. Frequently the only other angler you will see on your outing is your guide! The U.P. is one of the last truly remote undiscovered areas left in the U.S. The U.P. has several small spring fed creeks that host strong populations of wild brook and brown trout. These spring creeks maintain a near constant temperature/level that provides for a consistent trout fishery all summer long! The wading outing gives the angler lots of different options to explore while visiting here in northern Michigan. Any time of the Trout season you are visiting the U.P., rest assured Riversnorth can put you on fish!
Back to Top