Chinook & Coho Salmon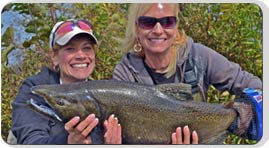 Fly fishing for Salmon here in the U.P. is a great opportunity to enjoy Fall colors and catch big fish! Every Fall mature Salmon (Chinook and Coho) make their annual spawning migration here in the U.P.. Our season begins in late September targeting these huge fish. Surf casting at river mouths on both Lake Superior & Lake Michigan is a very productive and exhilarating way to catch these huge fish! Spey rods are used with streamers to target these fish in the surf as well as in the rivers early in the run. Salmon will chase properly presented streamers quite aggressively. Averaging 6-20 lbs these fish when hooked surfcasting are quite the battle. Once the fish enter our rivers, you have until Early November to enjoy the fishery. Nymphing with single handed fly rods can be quite productive and memorable at this time! The Salmon definitely have the upper hand in the fight department when considering the lightweight fly-fishing equipment used to pursue them! Once in the stream, this is an excellent opportunity for novices/beginners to experience fly-fishing for the first time.
You haven't seen true fall colors until you've been in the Upper Peninsula of MIchigan in the fall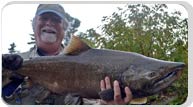 The Upper Peninsula of Michigan borders three of the Great Lakes. This makes for some premier fly fishing opportunities. All three of the lakes (Superior, Michigan, & Huron) boast the finest freshwater fishing available. Lake Michigan & Lake Huron have larger sized fish, but Lake Superior boasts the most scenic rivers the State of Michigan has to offer.