Spring 2009 - Rivers North Newsletter
Take a journey this fishing season to a place you've talked about visiting for years- Michigan's Upper Peninsula! The U.P. is home to some of the most pristine cold water Trout streams in the Midwest. Michigan's U.P. is truly a place that time forgot about-life moves at a slower pace and a friendly smile greets you to the north woods. Many anglers feel they have to travel out to the western states to have a true fly fishing experience away from the crowds. These anglers would be pleasantly surprised by the rivers of the Upper Peninsula. Join Riversnorth Guide Service of Michigan's U.P. for a truly unique fly fishing adventure. Steelhead, Atlantic Salmon, Brook Trout, Brown Trout, and Pacific Salmon are all available seasonally.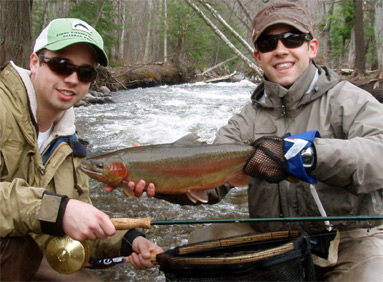 Spring Steelhead
Our season begins chasing spring Steelhead on the fast pocket water streams of Lake Superior. These Steelhead are thought by many seasoned anglers to be the finest of all Great Lakes Steelhead. When hooked in the icy cold fast water of these streams, it is challenging to say the least to get one of these wild fish to hand. Fishing conditions are not easy-boulder strewn rivers, raging white water, and hilly terrains make this an outing not for every angler. This is a very rewarding outing that is for the adventurous spirit that enjoys hiking and fishing in some of the most beautiful places in the U.P.!
Peak Dates
April 15-May 12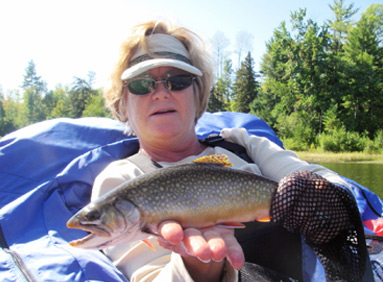 Early Summer Trout (Float Tubes, Driftboat, and Wading Outings)
When many people think of the U.P., they think of our Trout fisheries. The U.P. is home to countless blue-ribbon Trout streams and inland lakes that host strong populations of resident Trout. If you are interested in big Brook Trout, try your hand at float tubing on one of the U.P's inland Brook Trout lakes. These lakes are managed to have large Brook Trout-every year fish over 15 inches are regularly taken. This is a very relaxing and fun way to fish. If you have never fished from a float tube, it is a great way to pursue the Brook Trout of a lifetime.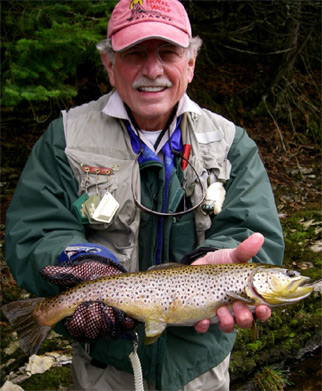 Brook and Brown Trout are available in the many Trout streams across Michigan's U.P.-both wading outings and float trips are available to seek these fabled trout. If getting away from the pressures of everyday life and experiencing the pure remoteness the U.P. has to offer is what you are interested in, this outing is for you. Our uncrowded Trout streams are truly a great experience-both dry fly and streamer fishing opportunities are available. This is a great adventure for all levels of anglers and a favorite of many of our longtime clients!
Peak Season
May 1-June 20
Sept 15-Oct 10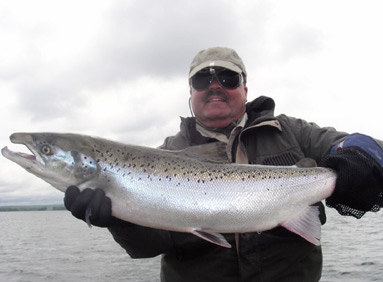 St. Marys River Atlantic Salmon
The St. Marys River of the Upper Peninsula is home to Michigan's Atlantic Salmon-this is the most unique fishery the region has to offer. Many anglers travel around the world to chase these magnificent fish. Known as the king of all freshwater fish, the Atlantic Salmon has earned its reputation by its aerial acrobatics and fierce fighting skills. Here in Michigan, we have some of the finest opportunities available for Atlantic Salmon in the United States. If you enjoy Steelhead and Pacific Salmon, the Atlantic Salmon of the St. Marys River is a must for you! These fish migrate up the St. Marys River in early June and good fishing is available all summer long. A great experience for novices and experts!
Peak Season
June 20-Aug 15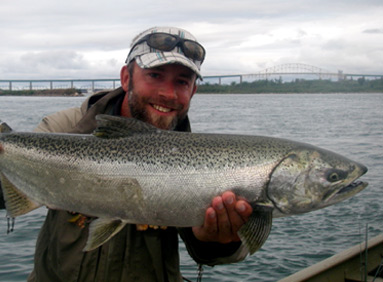 St. Marys River Atlantic Salmon, Chinook Salmon, and Pink Salmon (Early Fall)
In late August through September, Pink Salmon, Chinook Salmon, and Steelhead are available-during this time the angler can pursue the grand slam of the St. Marys River! All fishing is done within U.S. waters, so no passport is needed and a Michigan fishing license is valid.
Peak Season
Aug 15-Sept 30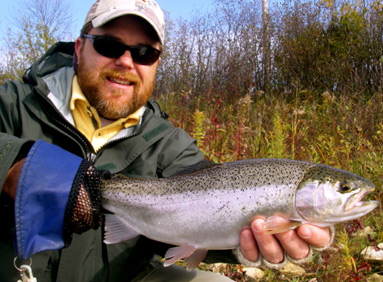 Fall Steelhead, Lake Run Brown Trout, and Pacific Salmon
Fall in the Upper Peninsula is a special time of the season. Fall foliage combined with streamer eating lake run Brown Trout, aggressive Steelhead, and Pacific Salmon make for a great outing. Pacific Salmon (Chinook & Coho) migrate into the streams of the U.P. every fall for their annual spawning ritual. Some good opportunities exist for these Salmon pre-spawn; but once they begin actively spawning, our focus switches to Steelhead and lake run Brown Trout. The Steelhead are in the river for one purpose-this is to eat! When the Steelhead are keyed into the large amount of Salmon eggs that are present, some excellent fishing can occur. These fall Steelhead are very responsive to well presented nymphs as well as streamers-having a chrome Steelhead grab a streamer is something no angler will ever forget! Here in the U.P., we are lucky to have a good amount of lake run Brown Trout-these fish are of true trophy size and are exciting to pursue. Two-handed (Spey) fly rods are used to take these fish as they will chase down a well presented streamer. This is a good opportunity for someone new to two-handed fly rods or the seasoned caster to get out and try to land the Brown trout of a lifetime!
Peak Season
Oct 5-Dec 15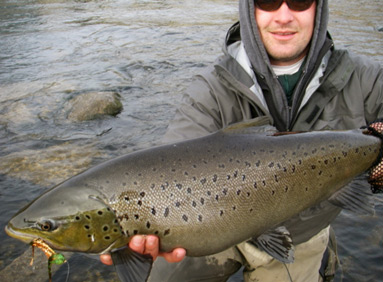 Visit http://www.riversnorth.net for additional information on all outings offered through Riversnorth Guide Service.
Do not hesitate to call (906) 458-8125 or e-mail riversnorth@yahoo.com with any questions whatsoever.
Please do not delay as peak dates fill quickly and booking your date promptly ensures quality fishing conditions.
All ages and abilities of fly fishermen are welcome!
Fight the fish, not the crowds with Riversnorth here in Michigan's U.P.!
Back to Top